Getting kids, especially some boys, turned on to reading is a challenge. That's why at my school we called in Dan Freedman, author of the Jamie Johnson series to inspire and motivate those reluctant readers.

At the whole school assembly the children sat enthralled as Dan told them how he had wanted to be a footballer, but when he realised he wasn't going to be good enough, turned to his other skills to get involved with the beautiful game. He told them how as a child he devoured the sports pages in the newspapers and, right there and then Dan recounted the whole life and career of Gary Lineker including all of the key facts - dates, transfer fees etc, from memory! No tricks, he was just so interested in what he was reading, it all stuck in there. (Talk 4 Writing)

Dan wowed the school with his story of how he got to work as the Editor at the FA and how he did go to two FIFA World Cups. He told stories about some of the famous footballers he met and we saw him playing pool with England Captain, Rio Ferdinand. Living his dream by being able to write...

Back to the classroom, my hyper Year 6 class couldn't wait to learn the tricks of the trade, which Dan shared with them; encouraging those not usually very keen to put pen to paper, to write engaging 'what happened next' endings to Jamie's story as he stepped up to take the penalty...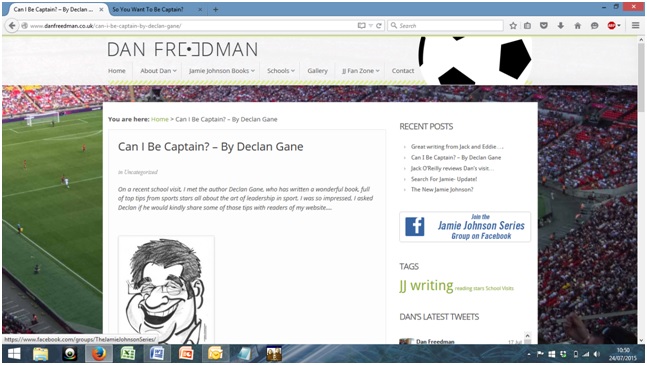 To add to the superb fiction of the Jamie Johnson series on Dan's website, you can now find regular tips of how to lead and inspire your team from some of the legends that have contributed to 'So You Want To Be Captain?'. Enjoy reading!